Hello everyone, Miggy finding another way to invade your screen…in case you haven't been paying attention, I was selected to represent Villanova as one of 16 alumni participants in this year's Biggest Big East Fan contest...the gracious people at Volvo are sponsoring the competition and putting up a sweet, sweet Volvo S60 to the winner. (And here's the video to prove it)
So along with the voting that started at mybigeastvolvo.com (cough, VOTE FOR ME, cough), we are in the middle of the blogging portion of the competition (this being the 7th of 8 challenge posts). Let's add on the fact the contestants will be/have been sent to their alma mater for one weekend using the S60 to attend a game…you can see my trip Volvo Big East Fan trip back to Villanova here.
Challenge #7: List the Top 10 Moments, Teams and Players in Big East History…
Preface: So the purpose of this challenge is to give homage to the Big East campaign known as Garden30…basically, the promotion is to honor 30 years of Big East play in Madison Square Garden…
You can go to the Garden30 website here and vote for the best Big East stuff in MSG…considering the site has all the MSG Big East pieces all listed in their site, let's take this question broader and list the 10 best moments/teams/players throughout the history of the Big East…
Top 10 Big East Moments… (* denotes MSG Moment, in honor of Garden30)
10) 1988- Pitt's Jerome Lane versus Providence: "Send it in, Jerome!"…one of the greatest highlights ever witnessed, anyone who hears that phrase can only picture this moment…
*9) 2010- West Virginia's Big East Tourney Run & De'sean Butler: One last-second winner in a tournament is incredible enough, but for the Mountaineers' De'sean Butler to make 2 game-winners, including the decisive bucket in the Big East Championship Game, that type of run deserved to make this list
*8) 2006- Syracuse's Big East Tourney Run & Gerry McNamara: It was bad enough that Syracuse had a losing record, endangering itself from missing the NCAA Tournament, but it was especially worse for Gerry McNamara, who was labeled throughout the college basketball world as "overrated" and was playing on an injured leg throughout the Big East Tournament…yet through all that, McNamara sunk 3 after 3 in the most clutch moments, propelling the Orange to win 4 games in 4 days
7) 1990- UConn over Clemson: Sweet 16 game, UConn down 1 and with 1 second left, Tate George pulls off this…
6) 2005- Conference Re-alignment: Strange that I bring this moment up, because it came at the light of 3 Big East schools leaving the conference…however, from its loss, the Big East found a way to add 5 schools, a move to show the rest of the nation it would not falter, yet rather find ways to strengthen itself in the face of adversity…the actions in 2005 set the precedent for the current re-alignment: teams leaving would only open an opportunity for the Big East to add more schools
*5) 2011- UConn's post-season: Winning the Big East Tournament? Sounds good… Winning all 5 tournament games in 5 days? Sounds better… Winning the entire NCAA tournament right after that? Led by Kemba Walker, who set a Big East Tournament record with 130 points throughout the tourney and was awarded the NCAA Tourney's Most Outstanding Player, the Huskies found their way into one of the greatest post-season runs in history
4) 2009- Villanova over Pittsburgh in Elite Eight: Two Big East teams facing deep in the Big Dance…and the result?
*3) 2009- Syracuse over UConn, Big East Tourney: 6 Overtimes…the second longest game ever in NCAA history…and if having an entire website dedicated to this game doesn't show how epic this game was, I don't know what will
2) 1985- Villanova over Georgetown in NCAA championship: The Final Four that year had 3 Big East teams (the 4th, Memphis, is joining the Big East soon…welcome Memphis), a feat in itself…two Big East teams in the championship game, also remarkable…however, when one thinks of a Cinderella story, this may be one of first stories to come to mind…Villanova, an #8 seed, was up against the defending champion and #1 seed Georgetown (fun fact, this was the last title game featuring 2 private universities for 25 years)…against all odds, Rollie Massimino, Ed Pinckney and the rest of Wildcats shot a BLAZING 78 percent and upset John Thompson Jr., Patrick Ewing and the juggernaut Hoyas…in doing so, Villanova became the lowest seed to ever win a title, a record which still stands…that single game defined the Big East as a conference...
*1) 1979- The Creation of the Big East & Dave Gavitt's reign: without the late Dave Gavitt along several other athletic administrators, this entire conference would not even exist…I mean Gavitt was part of creating USA's 1992 Olympic "Dream Team", but the former Providence coach was known around the college world as the first Big East commissioner…during his tenure, all original nine Big East schools made the NCAA tourney, six schools found their way into the Final Four, and formed the relationship between the Big East and Madison Square Garden, leading to the Big East Tournament hosted every year in MSG (hence the Garden30 commemoration)...therefore, the top moment in the Big East would have to be its first
Top 10 Big East Teams…yeah, the trend is if you made the NCAA title game, you did something right…
10) 1982 Georgetown- Georgetown moved its home games that year with more fans attending , and the team responded by winning the Big East Tournament and reaching the NCAA Finals…and in that game, Patrick Ewing versus Michael Jordan, Jordan shot the game-winner and Fred Brown passed to UNC's James Worthy, giving the Tar Heels the title
9) 1989 Seton Hall- A point away in overtime from winning it all, the Pirates still made their only NCAA Championship Game that year, surprising teams such as Indiana, UNLV and Duke in the process…it was more stunning how incredible of a run Seton Hall had since during the preseason they were picked to finished seventh in the Big East
8) 1987 Syracuse- This Orange team won the Big East Regular Season, and was this play from Indiana's Keith Smart from winning the National Championship
7) 2003 Syracuse – Alas, Syracuse did get their redemption, and won the NCAA title in 2003, also in New Orleans where the lost the championship game in 1987…throw in a Big East Regular Season championship, not a bad year for Melo, Warrick, McNamara and coach Boeheim
6) 2004 UConn- Winning both the Big East Tournament and the NCAA Tournament, the latter surprising when knowing versus Duke in the Final Four, the Huskies were down 8 with less than 3 minutes left…however, Emeka Okafor led the rally, and later was awarded the Most Outstanding Player when UConn defeated Georgia Tech in the championship.
5) 1985 Georgetown- #1 ranking by both polls, defended their Big East Tournament championship, and yet I just couldn't put them above the next one on the list…
4) 1985 Villanova- this team, winning as the #8 seed over such a heralded Hoyas team, defined the term "Cinderella"
3) 2011 UConn- Again, winning all 5 of their Big East Tourney games in 5 days (4 versus top-25 teams), then when reaching the NCAA Championship game, holding Butler to an abysmal 18.8% shooting percentage to the title.
2) 1999 UConn- Winning the Big East regular season, the Big East Tournament and their first NCAA Tournament, yet these Huskies were the #1 team in the country for more than half the year, yet were 9.5-point underdogs in the championship game versus Duke, the biggest underdogs (in terms of betting spreads) to win the championship game
1) 1984 Georgetown- This team was nicknamed Hoya Paranoia after holding opponents to 39.5% shooting; the lowest opponent field goal % in the nation…won the Big East Regular Season, the Big East Tournament and the NCAA Tournament
Top 10 Big East Players…most of this list and reasoning borrowed from my first Volvo Big East Fan Post, The Big East Dream Team…if it's not broke (and wins you a challenge), why not?
10) Alonzo Mourning- 3.8 blocks a game…that'll get you 3 Defensive Player of the Year Awards alone and put you as the 4th all-time blocks leader…throw in 16.7 ppg on 56.6 fg% and 8.6 rpg, that'll get you a Big East POY award, a 2nd-team All-American and a 1st-team All American
9) Ed Pinckney- Yep, more tributes to 1985…but Pinckney did shoot 60.4% from the field throughout his tenure at Nova…most people can't do that shooting hoops in an empty gym…14.5 ppg, 8.6 rpg, 2.0 bpg and 1.5 spg, all worth mentioning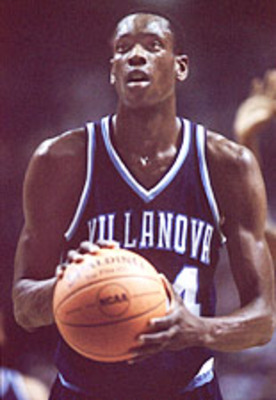 8) Kerry Kittles- Villanova's all-time leader in points (2,243) and steals (227), Second & First Team All-American, and had an obscene number or rebounds by a guard (715). Kittles and Bits stayed for all four years, averaging 39.4% from 3-point land.
7) Sherman Douglas- The Big East assists leader (6th all-time when he left) and accredited for perfecting the "floater"; The General would also put up a stat line of 14.9 ppg on 53.8 fg%, 1.7 spg, and a 33.2 3-pt%
6) Ray Allen- Big East POY and First Team All-American, Allen has a god-like 44.8 3-pt% through his 3 years at UConn. Add 19.0 ppg, 6.0 rpg and 1.6 spg career averages and you have yourselves a top-10 player here
5) Richard Hamilton- Rip enjoyed accolades of Big East POYs, a 2nd team & 1st team All-American, and was NCAA Tourney Most Outstanding Player in 1999. 19.8 ppg, 4.5 rpg, 1.3 spg, and 37.8 3-pt% just some of the stats which help prove the case he (and his mask) belong in this list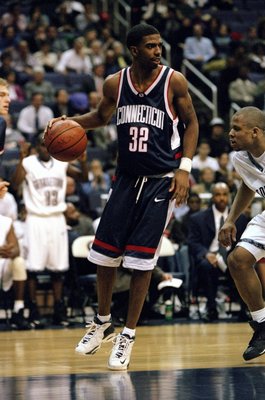 4) Allen Iverson- of course we ain't talking about practice (threw in that video at the end for you people at the Internetz to relive), but between that crossover of his, Big East awards Rookie of the Year and 2-time Defensive POY, and a First-Team All-American…with his 23.0 ppg during his two years, he could have easily have been one of the all-time Big East scoring leaders, and his 3.2 steals per game is unfathomable…in fact, he ended up finishing as 10th all-time in the NCAA steals-wise, when again, he only played for 2 years
3) Derrick Coleman- Another player with Big East POY, Rookie of the Year, and a First Team All-American under his belt, Coleman had one of the highest rebound totals in NCAA history (1,537), along with third-most double-doubles in the game…in fact, he basically averaged a double-double 15.0 ppg and 10.7 rpg, along with 2.2 bpg, 1.3 spg and a 56.8 fg%
2) Chris Mullin- Where do Mullin's accomplishments end? Three-time Big East POY, Second Team & First Team All-American, and National Player of the Year honors…19.5 ppg, 4.1 rpg, 3.6 apg, 1.7 spg, 55.0% from the field and 84.8% from the line, Mullin had such an all-around game to compliment his 2,440 point total
1) Patrick Ewing- OK, let's see…Big East Rookie of the Year, Four-time Big East Defensive POY, two-time Big East Player of the Year, three-time First Team All-American, NCAA Tourney Most Outstanding Player, and National Player of the Year…he was that good…15.3 ppg, 9.2 rpg, 3.4 bpg, 1.2 spg, 62.0 fg%...honestly, I wouldn't know how else to convince you his ranking of #1 on this list...unless the commercial helps…
(And now a commercial...because this post deserves a break)
Tired of mindless memes, Farmville requests and pointless updates filling your timelines? Follow Volvo on Facebook and Twitter and get some Swede Speak in your vocab…
…Back to the show
So, you would think I'm done, considering the question only asked for moments, teams and players…but we're gonna go overtime here. Why? Cause you can't sum up the Big East that easily…
Top 10 Big East Coaches...(only counting their tenure within the Big East)
10) John Thompson III- Achieved a Final Four and 5 NCAA Appearances so far as the Hoya's head coach
9) Jamie Dixon- Made the NCAA Tournament each of his 8 years so far as Pittsburgh's head coach and is currently sporting a .700+ winning percentage
8) Jay Wright- Since he became Villanova's head coach in 2001, Jay has always been the best dressed coach of the Big East, as well as one of the most consistent, taking the Wildcats to 7 straight NCAA appearances, including the Final Four in '09
7) Rick Pitino- Lead Providence to a Final Four within the short stint he was there, along with taking Louisville to 5 straight NCAA Tourney appearances
6) P. J. Carlesimo - 378 wins, 6 NCAA Tourney appearances and a National Championship appearance during his 12 seasons for a Seton Hall team that only had one season in the Big East above .500 before him
5) Rollie Massimino – NCAA Champion (leading that 1985 Cinderella), 11 NCAA Tourney appearances (making a post-season appearance every year since Villanova was included in the Big East)
4) Lou Carnesecca – 526 wins all with St. John's…18 NCAA Tourney appearances, including being part of that legendary 1985 Final Four, in fact, every year he coached in the Big East, the Johnnies have made a post-season appearance
3) John Thompson Jr- in 1984, when leading Hoya Paranoia to the NCAA Championship, became the first African-American coach to win the tournament; has 3 Final Fours, 6 Big East Tourney championship wins, 5 Big East Regular Season championship wins and 596 wins
2) Jim Calhoun- 3 NCAA championships, 7 Big East Tourney championship wins, 9 Big East Regular Season championship wins, 6th all-time in wins…definitely high on this list…
1) Jim Boeheim- Most wins in a single school, third-most wins all-time, national champion (3 Final Fours), 4 time Big East Tourney champ and 8 time Big East Regular Season champ…love him or hate him, Boeheim has been the best the Big East had to offer
Top 10 Big East Rivalries…cause it's all about passion in this conference…
10) Pittsburgh vs Syracuse- The two programs have been playing against each other since 1914, reaching triple-digits in terms of meetings
9) Cincinnati vs Memphis- OK, technically we're waiting until 2013 to add this to the list, but considering the two programs were rivals from the Missouri Valley Conference, to the Metro Conference and then to Conference USA, it's not surprising the UC and Memphis will get to add to their 86-game rivalry in another conference
8) Marquette vs Notre Dame- the fight for the Chicago area, playing each other since the days both programs were independent
7) Villanova vs Pitt- the battle for Pennsylvania, refer to #4 on Top 10 Big East Moments to see why this matchup has been heated up more than ever
6) Syracuse vs Villanova- some of the largest crowds to date were from Cuse-Nova games, including a matchup in front of 36,000+
5) Louisville vs Cincinnati- another rivalry that took form in a few other conferences (Metro and C-USA along with Big East), the Keg of Nails is given to the winning football team, but that doesn't mean the two don't care when they meet on the basketball court…
4) Syracuse vs UConn- between the two teams winning national championships in back-to-back years (Cuse in '03, UConn in '04), the legacy between these two wrote a new page during that 6 OT game
3) Villanova vs Georgetown- again, going back to 1985…
2) Pitt vs West Virginia- The Backyard Brawl, the two schools, only separated by 70 miles, have been facing off since 1905 (183 meetings) and each meeting is as intense as the last…between the players and the fans, sometimes the match becomes a bit chippy…
1) Syracuse vs Georgetown- When people think Big East rivalry, this is the first that comes to mind…in fact, this was the displayed match for Rivalry Week last week…the two face off each year since the Big East was created in 1979, with G'town defeating Cuse in the Orange's last game in the old Manley Field House...
…and then there was this…
…even Cuse fans would try to take over Georgetown's home arena some years…and with each story, each wrinkle, attendance would consistently be at its highest, reaching 30,000+ more times than any other match-up
So that's it, as usual, feel free to make your comments...and/or like it, and/or re-tweet it, you know you want to…
Follow me on twitter @miggyflavored, and GO NOVA! (V for Villanova, V for Victory, V for Volvo)
(As always, many thanks to Volvo & the agency setting up the competition for giving me opportunity to represent, and Eamon O'Meara for the opportunity to work in this blog [sorry about your Pats…])